Another Hills lion killed in Oklahoma
By Mark Watson bhpioneer.com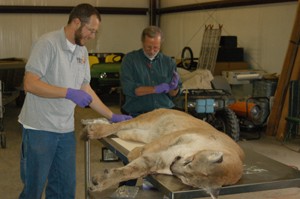 Oklahoma wildlife officials remove genetic material from a 3-year-old mountain lion that was killed near Minco, Okla. Testing showed that the lion originated from the Black Hills.
SPEARFISH — South Dakota mountain lions continue to spread from the Black Hills throughout the Midwest.A lion killed near Minco, Okla., in November 2011 was recently confirmed through DNA testing, that it originated from the Black Hills.The lion was at least 3 years old and weighed 130 pounds. It had been hit by a vehicle in November near the town south west of Oklahoma City.
"Fortunately someone had seen it hit or something and contacted the game wardens," said Erik Bartholomew, a furbearer biologist for the wildlife department of the Oklahoma Department of Wildlife Conservation.Wildlife officials further determined that it was a wild lion, as it contained porcupine quills in its stomach.
This isn't the first time that a Black Hills lion was killed or captured in Oklahoma.
In 2004 a lion was killed by a train near Red Rock, Okla. — a straight-line distance of about 670 miles and the longest recorded dispersal of a lion. In April 2011, a female lion from the Black Hills was captured by Tulsa Zoo officials and later taken to the zoo. "We get reports of lions all the time, but we verify them only two or three times a year," Bartholomew said.
Although there are some remote parts of the state conducive to the large predators, Bartholomew said Oklahoma is largely too populated to be suitable mountain lion habitat."We have no indication of any breeding happening," he said.
Deer are a staple of the Puma diet
John Kanta, regional wildlife manager with the South Dakota Game, Fish and Parks, said they have recorded a number of long dispersals from mountain lions, typically sub adult males."We had one with a malfunctioning collar show up in Saskatoon, Canada," Kanta said.
Saskatoon is located in southern Saskatchewan. A report published in 2010 showed six of 24 collared lions from the Black Hills dispersed greater than 250 kilometers, and other long-range dispersals were recorded. Those were mainly males, but females were recorded in Wyoming and Montana.
Bartholomew said other Black Hills lions have been found in Missouri and other parts of Oklahoma, including the latest one that was killed."We have no idea of the path he used to get to Oklahoma," Bartholomew said. "However, with him being killed near the South Canadian (River), he likely was following the river where their primary prey — white-tailed deer — would be in high abundance."
Bartholomew said Friday he was responding to reports of a lion photographed on a trail camera in Osage County, located in northern Oklahoma, and added that lions carry a negative stigma in the state and people, given the opportunity, will shoot the animals. "We don't want to see that happen," he said.
South Dakota closed its mountain lion hunting season on March 1 after 73 lions were killed. The state set a 70-lion quota, but hunters were still in the field when the 70th lion was shot.Kanta said biologists are "crunching numbers" to evaluate the population. The GF&P wants to lower the lion population in the Hills to about 150-200 animals. Kanta said officials are projecting the population will be lowered from 2011, but it is still too early to tell.