Wednesday December 3rd, 2014
Maybe Humans
Didn't
Drive Mastodons To
Extinction
Maybe humans weren't to blame for the demise of the American mastodon after all.
For years, conventional wisdom held that
mastodons were hunted to extinction
in North America some 10,000 years ago. But a
new study echoes previous research
indicating that mastodons and most of the other big animals that once lived on the continent, known as megafauna, may have already died out before humans migrated to North America from Asia.
For the study, which was published online in the
Proceedings of the National Academy of Sciences
on December 1, 2014, the researchers used two types of radiocarbon dating on 36 fossilized mastodon teeth and bones that had been unearthed in Alaska and the Yukon.
What did the research reveal about North America's mastodons?
"We learned that they weren't even here by the time people showed up," Dr. Grant Zazula, a paleontologist with Canada's
Yukon Palaeontology Program
and the study's lead author, told CBC News.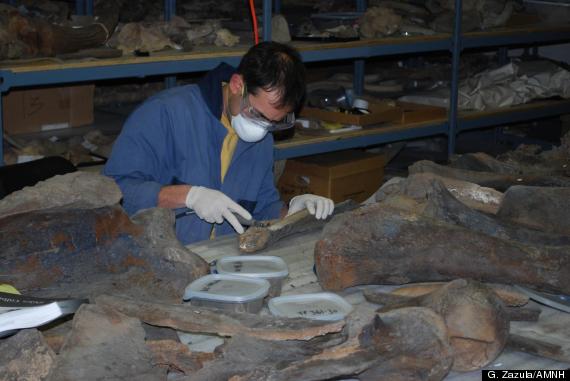 Zazula cutting samples of American mastodon bones for radiocarbon dating.