https://www.google.com/url?rct=j&sa=t&url=http://www.outdoorhub.com/news/2015/02/20/mountain-lion-spotted-michigan-hunters-trail-cam/&ct=ga&cd=CAEYAioTMjIxNzQyOTk5NTMzMjU2ODMzODIaNDY5MjBhOTZlZmMxMTU4ODpjb206ZW46VVM&usg=AFQjCNHVtaD-pMLGSygApxctTJgWGAhyHg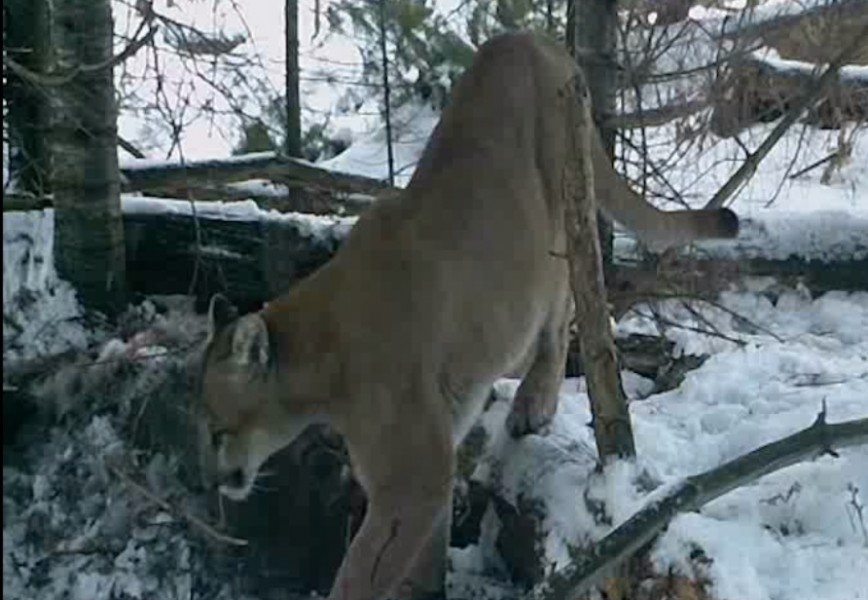 Mountain lion sightings in Michigan's Upper Peninsula are rare events (there's no significant cougar population in the state), but one has been spotted prowling in Mackinac County recently. On Thursday, the Michigan Department of Natural Resources (DNR) confirmed that the large cat recorded by a hunter's trail camera in December was indeed a mountain lion.
"This marks the 28th time that cougar evidence has been verified in the Upper Peninsula since 2008," the DNR stated on its
Facebook page
.
Two hunters from Remus placed the camera near a deer kill site and it recorded footage of a male mountain lion visiting the area repeatedly to take advantage of an easy meal. This is especially significant because the species was thought to have been locally extinct since 1906. The DNR has recorded a slow uptick in sightings over the past seven years. According to wildlife officials, mountain lions were originally native to Michigan but were extirpated near the turn of the twentieth century. Despite this, it seems that a small number of the animals may have moved into the state. Biologists first discovered the presence of cougars in Michigan after one was reportedly struck by a car in 2004. Although the animal was not found, tests of fur samples collected from the car bumper positively identified the animal as a cougar.
Some of the animals may have escaped from private owners, as it is still legal to own a mountain lion brought into the state prior to 2000, when Michigan passed a law to ban the possession of large exotic cats. However, as the years pass, it has become increasingly unlikely that animals found in the wild were once captive. Officials now believe that some of the cats may have made long journeys from states with breeding populations.
"Based on documented evidence, cougars observed in Michigan could be escaped or released pets. Or, they could be transient or dispersing cougars from the nearest known breeding populations in North and South Dakota," stated the DNR on its
website
. "These populations are over 900 miles from Michigan."
Wherever they came from, mountain lions in the Upper Peninsula may face competition from the approximately 630 wolves living in the region. Officials advise residents to report any cougar sightings directly to the DNR.
You can see a 60-second clip of the trail camera footage below.



Michigan DNR releases video of male cougar in Mackinac County (UP)
Detroit News, 2/20/15
Video footage was taken of the cougar at a deer kill site.
FIRST PICTURE BELOW IS VERIFIED DECEMBER
2014 MICHIGAN PUMA SIGHTING BY DEPT. OF NATURAL
RESOURCES.........PICTURES THAT FOLLOW ARE SOME
OF THE OTHER 28 VERIFIED SIGHTINGS SINCE 2008
From Publishers Weekly
Cougars have long been thought extinct in Michigan, but a coterie of environmentalists and wildlife enthusiasts, led by Michigan Wildlife Conservancy biologist Patrick Rusz, believe otherwise. In this engaging study of a wild animal and its human acolytes, journalist Butz traipses around with Rusz in search of droppings, paw prints, mauled deer carcasses and the testimony of people who have sighted the elusive beasts. He maintains a critical distance from the obsessive and sometimes off-putting Rusz and from his antagonists at the Michigan Department of Natural Resources, who remain dismissive of mounting evidence of the cat's presence. Butz, who was eventually granted his own magical glimpse of a prowling cougar, writes evocatively of the animal's habits and charisma. He makes it the focus of a larger panorama of backwoods northern Michigan, a hunter's paradise, with a quirky population of outdoorsmen and conservationists for whom the cougar offers both the promise and the pitfalls of an element of nature that can't be readily bent to human purposes. The result is a beguiling mixture of scientific lore, meditative natural history and vivid reportage. Photos.
Copyright © Reed Business Information, a division of Reed Elsevier Inc. All rights reserved.
Puma concolor
goes by many names: cougar, catamount, mountain lion, and the author's preferred puma. Once found from the Atlantic to the Pacific, it has now been extirpated from the U.S. east of the Mississippi--or has it? An increasing number of people are claiming to have seen one. Nature writer Butz met Patrick Rusz, embarked on proving there were wild pumas in Michigan; he enlisted Butz as a reporter and sometime helper. What follows is a mix of politics (the Michigan Department of Natural Resources and Rusz do not see eye to eye), history (both feline and human), and reporting, interspersed with the author's meditations on the meaning of wilderness and the place for large, toothy predators in the modern age.
Nancy Bent
Copyright © American Library Association. All rights reserved
Review
"BEAST OF NEVER, CAT OF GOD is a wonderfully engaging book on the cougar controversy and the pathetically warring factions of believers and cynics who demand a level of proof rarely available to criminal prosecutors."
--Jim Harrison, author of True North

"This is a journey into wilderness and the imagination as serendipitous as The Orchid Thief. Butz's lyricism is matched by his relentless honesty, giving a taut portrait of vivid sinew and rich heart, a beast whose shadows cut across our lives in ways we don't always understand. Butz's soul searching and naturalist's vivid grasp, tooth and nail, breathe the beast to life."
--Doug Stanton, author of In Harm's Way

"The eastern mountain lion haunts our domesticated dreams, infusing our too-tame world with hope and excitement. In BEAST OF NEVER, CAT OF GOD, Bob Butz follows this ghost cat through the woods of Michigan and the thickets of science, politics and the human heart, wrestling with his own skepticism and a belief that the great predator is still out there. Just like the enigmatic animal at its core, BEAST OF NEVER, CAT OF GOD holds and does not let go."
--Scott Weidensaul, author of The Ghost with Trebling Wings: Science, Wishful Thinking and the Search for Lost Species
"[a] fascinating report…"--Grand Rapids Press
"Every now and then a really good writer lifts the veil of mystery on a complex subject. Bob Butz succees at just exactly that in his wonderful book...an honest and absorbing account of his intellectual, emotional and physical journy into the questions."--Grand Rapids Press
From the Back Cover
For the last one hundred years, the puma-also known as catamount, panther, cougar, and mountain lion-has been extinct east of the Mississippi River. Or has it? In the early 1970s, an endangered handful of these 150-pound wildcats was discovered living deep in the palmetto jungle of the Florida Everglades. But elsewhere, and despite a long litany of sightings, tracks, and more recently photographs and video footage, most wildlife biologists and game department officials from New England to the Great Lakes flatly dismiss any notion that the "eastern puma" survives anywhere else in this increasingly fragmented and suburbanized country.
When the most compelling body of evidence yet surfaces to suggest that the government's experts might be wrong, Bob Butz sets out to discover the truth behind what is perhaps the most mythic and misunderstood predator in North America. The result is a weird and wacky glimpse at the people and politics surrounding the so-called "eastern puma." Why do state and federal biologists so often dismiss evidence that pumas are here? Is that denial leaving people at risk? Who are the characters out there looking for pumas-and at what cost to the cat and, ultimately, themselves? The answers reveal a mystery greater and far more complex than anyone ever imagined. It will also leave readers examining their own beliefs.
A journey into the woods, a road trip, a meditation, and an expose, Beast of Never, Cat of God chronicles the search for cougar, while exploring the implications, the myths, and the reality of the creature. It's one man's hunt for truth and wilderness in a place-the East-where true wilderness is thought not to exist.