https://www.google.com/url?rct=j&sa=t&url=http://www.insidehalton.com/news-story/6241739-town-of-oakville-looking-at-enclosing-park-garbage-cans-to-deter-coyotes/&ct=ga&cd=CAEYBSoTODk0MDQyNzY3NDE3Njg4MDc0MDIaZjUwOWE2YjQ0ZTNkYzY4OTpjb206ZW46VVM&usg=AFQjCNG4Qj_vHhAMBo-BsgbnV0uJdv5xnw
Sent from my iPad
Town of Oakville looking at enclosing park garbage cans to deter coyotes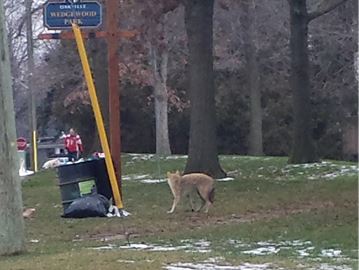 Town of Oakville looking at enclosing park garbage cans to deter coyotes
Submitted Photo

Oakville Beaver
An Oakville woman, who lives in the vicinity of Wedgewood Park, is calling on the Town to switch to enclosed garbage cans at its outdoor facilities following a close encounter with a coyote.
Elaine Wood said the old style open metal garbage cans, particularly the ones located at the entrance to local parks, are an open invitation for coyotes as they offer an easy food source.
The resident found this out firsthand during a recent mid-day walk near Wedgewood Park.
"I was out for a walk around noon and literally stumbled upon this coyote," said Wood.
"Needless to say, I backed away when I saw him."
In pictures provided by Wood, a coyote can be seen apparently investigating an overflowing garbage can in the park.
Wood said enclosed public garbage cans would cut coyotes off from this food source and remove one of the key factors drawing them closer to residential areas.
Resident concerns about coyotes have been on the rise in recent weeks as an outbreak of mange is causing the animals to come closer to residential areas seeking warmth and food.
Last week, a coyote made headlines when it approached students at Oakville Trafalgar High School.
Police were called to the scene, but the coyote ran away as they approached.
Earlier this week, Oakville Beaver Justin Greaves spotted and photographed a coyote strolling down Third Line in the area of the shopping mall, South Oakville Centre.
The Town's Director of Parks and Open Space Chris Mark said that while the vast majority of park garbage cans are open versions, there are a number of enclosed models throughout the town.
He said there are a few of these enclosed trashcans in Glen Abbey and a couple in the southeast Oakville area, but agreed with Wood there should be more.
"Putting the hoods on these cans is something we should and we can do in the near future especially in the OT (Oakville Trafalgar) area, where we've got this coyote right now that is giving us problems," said Mark.
"We can probably do that in the next week or two weeks."
Mark said the enclosed garbage cans serve two purposes, in that they keep wildlife out of the garbage and they deter residents from dumping household waste illegally.
Town staffers are also recommending residents refrain from throwing food waste into these park garbage cans.
"It just leads to habituating wildlife. It's habituating coyotes, squirrels, raccoons, foxes. Putting food out in the garbage cans is just an absolute no-no," said Mark.
"The wildlife should be in the valleys and the wildlife corridors that we have, instead of being in the neighbourhood park because they've got access to food."
Mark also referenced the overflowing park garbage cans noting that while the garbage in those cans is collected a minimum of once a week, there is a major problem with illegal dumping at these cans throughout the town.
He called on residents to report these overflowing cans when they see them at 905-845-6601 so they can be emptied.
Mark also pointed out when a problem with illegal dumping is found in a neighbourhood, the Town distributes flyers to surrounding residents asking them to refrain from this behaviour.
"The full can is unsightly; secondly, it smells; and thirdly, it creates food for wildlife and especially coyotes," said Mark.
The Town is holding a coyote information meeting tonight (Wednesday) at 7 p.m. at St. Mildred's-Lightbourn School at 1080 Linbrook Dr.