CLICK HERE FOR FULL STORY
Alberta bear video fuels conservation talk
Naylor's video can be found at: http://www.youtube.com/watch?v=AihvuZiDhsg&feature=c4-overview&list=UU50z-ubg9WsITsqT3OZBZIA
Alberta bear video fuels conservation talk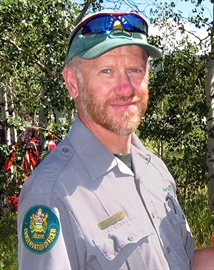 It started as a simple project a parks officer worked on in his spare time, ballooned into an Internet sensation and now a viral video of Alberta's grizzlies is drawing international attention to the province's wildlife and conservation efforts.
For the 58-year-old Alberta Parks officer behind the flick, the reaction has been hard to believe.
"It means a lot to me," said Glenn Naylor, who called his video "What goes on when you are not there.''
"We need to keep bears on the landscape, we need to find ways to ensure that we can live with them, interact with them, recreate with them safely, and this video is really helping."
The clip that was made in July was featured on multiple TV shows in the U.S., including "The Colbert Report," sparked interest from news outlets as far as Japan and has even drawn the interest of BBC producers who are now considering featuring Alberta's grizzlies on a new show.
"They were going to go somewhere else but then they saw the video and they thought they'd like to come here," he said of the British producers, one of whom will be travelling to Alberta in January to see if the province's bruins can be featured on their series.
Naylor made his video using a sequence of still images from motion-sensor cameras placed in the wild. More than 100 such cameras that are checked every month are spread out over Alberta's Kananaskis region for research and monitoring purposes.
When going through the images, Naylor realized certain sequences provided incredible insight into animal activity when humans weren't around. The conservation officer decided to string together a few of those sequences using video editing software at home and first came up with a short clip of a black bear in the wild.
After getting a positive reaction from his peers, Naylor decided to make a longer video that was focused on a "rubbing tree" visited by a variety of wildlife through day and night.
A group of grizzlies were undoubtedly the stars of that clip as they froclicked in the foliage, revelled in rubbing their backs on the bark and contorted themselves into a variety of positions as they left their scent on the tree.
"It just gives a glimpse into one of the things that they do and how they use these rub trees to communicate," Naylor said of the video. "What I'm hoping it will do is prompt more investigation into bears and how bears behave. And hopefully even more so about how to interact with bears safely, how can I go hiking safely, how can I live in bear country safely."
After setting the video to music from Toronto guitarist Ewan Dobson, Naylor wanted to share his completed project with a wildlife program but the file was too big to email. To get around the problem he decided to post the clip on YouTube.
"I didn't really think about it much and then a couple of days later, I just happened to go on there to do something and there were 375,000 views. And I go wow, something's going on here," said Naylor.
Initially, Naylor panicked, because the video had images that belonged to the government and had been posted onto his personal YouTube account. After telling his workplace about the situation, the video was reposted on the official Alberta Parks page, where it has currently been viewed more than 2.5 million times.
"It's giving exposure to bear behaviour. It's giving huge exposure to Alberta Parks all over the world," said Naylor. "It's also given a lot of awareness to our bear research or wildlife research and wildlife conservation programs we are involved in here, because a lot of people ask about that."
The video has also led Alberta Parks to task a group of employees, including Naylor, to look at better ways to market their initiatives through social media.
Meanwhile, Naylor still plans on doing more videos.
His next project will be called "Rabbit with a death wish" — he just has to find time to put it together.
___
Naylor's video can be found at: http://www.youtube.com/watch?v=AihvuZiDhsg&feature=c4-overview&list=UU50z-ubg9WsITsqT3OZBZIA
By Diana Mehta, The Canadian Press